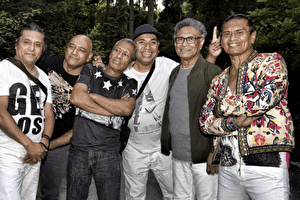 Sep 12th 2021
This performance has been rescheduled for 12 September 2021. Ticket buyers will receive a message from Ticketmaster. Already bought tickets remain valid.
Massada has a special place in Dutch music history. The Dutch-Moluccan band, led by founder Johnny Manuhutu, has been around since the 1960s and once started out as The Eagles. When the legendary American Eagles stormed the charts, the name was changed to Massada. The band made their definitive breakthrough in 1978 with hit songs such as 'Latin Dance' and 'Dansa' from their debut album 'Astaganaga'. A spectacular performance at Pinkpop and a successful European and Asian tour followed with nothing but rave reviews. The productive band had a fixed pattern of releasing an album a year and two years later scored a gigantic number one hit with their single 'Sajang é'.
More than 40 years after their debut album, Massada is still on stage and rocking the crowd with their delicious Latin Rock and spectacular live reputation!
This concert was originally scheduled to take place on 25 April 2020 and was later changed to 16 January 2021. Click here for more information.
Upcoming